A Reliable APFC Panel Manufacturers in Ahmedabad, India
Shrinath Electric is one of the most trusted and recognized APFC Panel Manufacturers that enjoys widespread popularity when it comes to manufacturing and supplying APFC Panels. Capitalizing on the gigantic experience of our experienced technical team, we specialize in supplying extensive quality APFC Panels. Our core capability lies in manufacturing precision-engineered APFC panels and we rely on the best quality materials for the same. At every stage of the manufacturing process, international quality standards and regulations are followed. As a result, the product produces the best outcomes and earns top marks for both performance and value appeal.
We manufacture APFC Panels of superior quality to meet the ever-increasing demand of our clients. The device works with a wide temperature range and is suitable for conducting industrial dimensions. We use advanced technology to manufacture APFC Panel – the device and equipment with qualities like robust design and dimensional precision. Additionally, we offer beneficial after-sale services that help our clients form the strongest possible business relationships.
Best APFC Distribution Panel Manufacturers & Supplier
We, at Shrinath Electric, manufacture and supply APFC panels of the highest quality. Being the best APFC Panel Manufacturer & Supplier in Gujarat-India, we have the expertise of experienced engineers and technicians. We take pride in designing wide-ranging varieties of automatic power factor control panels, switch gears, motor starters, and other devices, following industry standards while fulfilling national norms. Our brand uses advanced technologies in combination with high-quality raw materials for APFC Panel manufacturing in our range of control panel devices.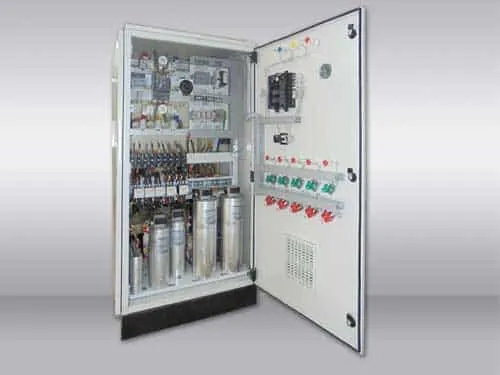 Key Features of APFC Panel
Known for being a reputable APFC Panel Manufacturer, Shrinath Electric considers itself responsible for conferring its customers with Automatic Power Factor Correction control panels that have higher durability and are easy to use. Our panels are created in accordance with cutting-edge patterns and excel at practical appeal. Among our power factor panels primary characteristics are:
Our panels have high power factors and high-efficiency features.
Offers features that are simple to use and are made with low-maintenance characteristics.
These panels are renowned for fulfilling certain requirements for high dielectric strength.
Prevents sensitive equipment from being damaged, especially in low-load situations
Highly resilient to challenging working circumstances and able to withstand high temperatures
Includes a built-in separate fuse to guard against system damage from excessive power
APFC Panel Application
APFC Panel Used for Engineering and Construction
APFC Panel Used for Data Centre/Hosting
APFC Panel Used for Fire/Alarm/Security
APFC Panel Used for Manufacturing Facilities in the Healthcare Sector
APFC Panel Used for Units for Generating Power
APFC Panel Used for Wholesale and Retail
APFC Panel Used for Telecom Sector
APFC Panel Used for Transmission and Distribution of Electricity and Gas